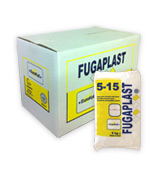 Fugaplast 5-15
Technical data
Technical Data Sheet
Characteristics
Powder product based on cement, selected aggregates, synthetic resins, special waterproofing additives and coloured pigments with high resistance to alkalis and detergents, in different colours, light, fast in time and keeping the original colour.
Applications
FUGAPLAST 5-15 is suitable in the following cases:
Grouting of tiles with joints up to 15 mm.
Grouting of tiles installed nearby with fine finishing.
For grouting floors and walls, FUGAPLAST 5-15 shall be mixed with EUROLATEX FUGA replacing the water completely.
Preparing the mix
Mix 5 kg of FUGAPLAST 5-15 with about 1,5 l. of clean water. Mix until a smooth and consistent mix. The mix must then rest for about 5 minutes, stirring it again before using it.